A 29-year-old preacher, Alberto Mvila has done the inevitable after risking his life to preach about Jesus Christ in Pakistan, a Muslim dominated country.
As at 2017, religion in Pakistan is: Islam (96.47%), Hinduism (2.14%), Christianity (1.27%), Ahmadiyya (0.09%), Others (0.03%).
THE PARADISE NEWS gathered that Pastor Mvila, a European-based Evangelist and founder of Belgium is Saved Mission, was on a 16-day missionary journey in Pakistan, where he converted 16,342 people to Christianity.
According to Mvila on his Instagram page, he visited Lahore, Pakistan and had to preach for 16 days (from April 1 – April 16, 2021) with heavy security guards following him wherever he goes. He preached the gospel of Jesus Christ, baptising people and also laying hands on them while praying.
"Multiplication is the fruit of faithfulness…Yesterday, 16,342 people gave their lives to Christ", Mvila posted on his Instagram page on April 8, 2021.
Watch the video below…
However, today, April 19, 2021, a Twitter user, @harri_010 took to Twitter to share Mvila's bravery posting thus: "Over 16,000 people received Christ in #Pakistan as 29 year old servant of GOD, Alberto Mvila risks his life to hold crusade.!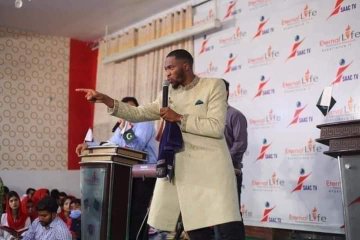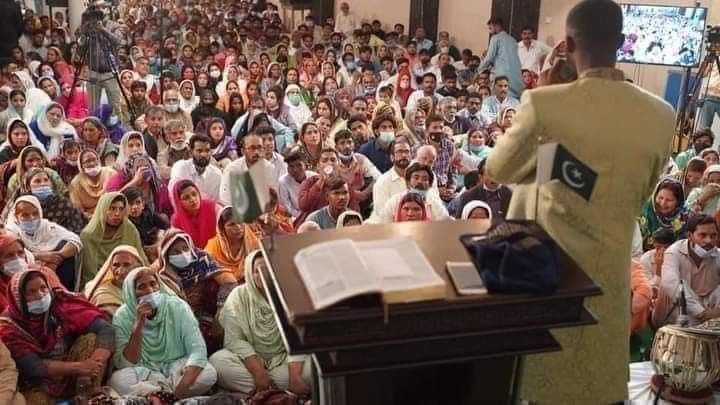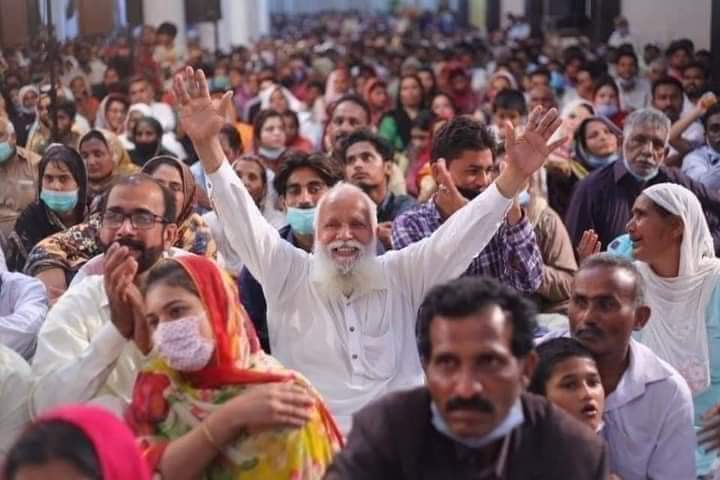 The tweet has generated a lot of reactions, especially from Nigerians who said that cannot happen in a core Muslim state in the northern part of the country.
@naxonaxo9 said: "If he was in Nigeria, that Panterrorist would have called for his head, hisbah would have arrested him and deal with him".
@SpringsSurge said: "Take Nigeria for example. Do you actually take risk to talk to people about Christ in Lagos? Nope. But try it in the North, then it's a risk. My point is: not all Muslims are violence inclined, most associate their violent culture to Islam".
@Sir-Berkeley wrote: "When a Muslim comes to a Christian dominated area and converts people to Islam, that person isn't risking his life, but when it's the other way round, the person is risking his life. Isn't there a problem with that religion? Why is violence attached to it? They".
@UbaegbuGreatJnr said: "Lol, imagine he preached in Sokoto or even Kofa Ruwa area of Kano", adding "I remembered my NYSC days in Katsina, during our rural rugged programme, we use to clean our busses, we don't go with the Bible, neither do we pray in Jesus name, we go as caring Corpers. Northern Muslim is something else".
@_Pre_eminence wrote: "Actually more often than not, Christians won't cart the Muslim away to an unknown location or constitute a direct threat to their life. On the other hand…"
@peteregwuatu said: "One thing many of us Christians don't understand is that most Muslim countries are just tired of their religion. They are just forcing themselves to practice it out of fear. They are looking for a way out of her. If they see the power of God truly, they would escape".
@spiecy_diecy wrote: "Passion for Christ! This is what true Christianity is all about. I pray God keeps him n protects him throughout his missionary n evangelical works. This is beautiful".
Photos of over 16,000 people that gave their lives to Christ in Pakistan following the preaching of Pastor Alberto Mvila.
let's also have your thought in the comment section.