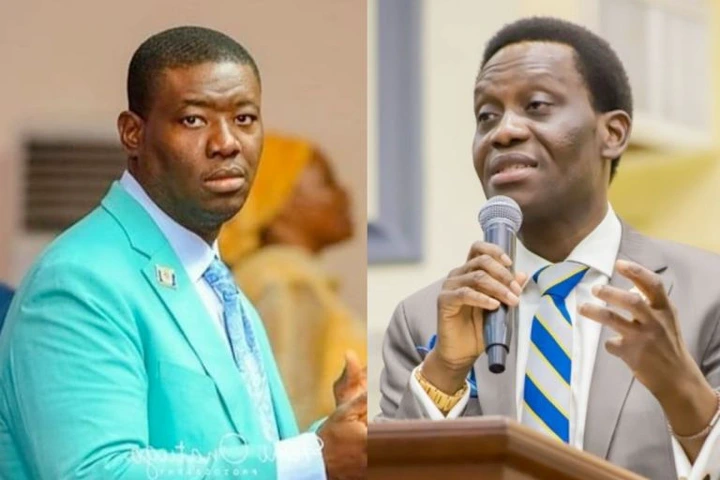 News broke yesterday afternoon that Dare Adeboye who is the second son of the General Overseer of the Redeemed Christian Church of God, Pastor Enoch Adeboye, died in his sleep.
The news of his death shocked many Nigerians and other people around the world that they were left wondering what could be the reason behind his death. But, such detailed explanation has not been given and may not even be given by his family. The only thing the reports about Dare's death told the curious members of the public was that the deceased was not sick neither did he complain of anything, he just slept but did not wake up.
Adeboye himself, that is Dare's father, has not spoken about his son's death yet while many people are curious to hear more from key members of the family. However, Leke Adeboye, Dare's elder brother who is the first son of Pastor Adeboye made a post where he dropped a deep message after the death of his younger brother. Read Leke's post below: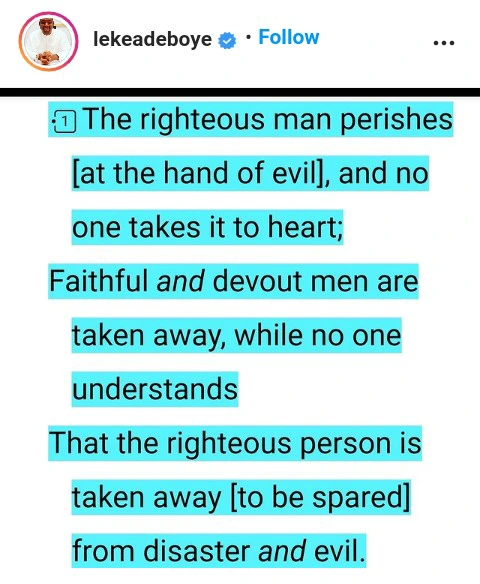 Obviously, Leke was speaking about death in the message he posted above. Coincidentally, he made the post after his brother's death amid different reactions from Nigerians and many people around the world. Leke's message has deep meaning and he made this post while his family and many other people are still mourning over the death of his younger brother Dare. Leke's post was also published by PM News and you can see it here.
What Leke's deep message could mean.
Leke's message seems to be from some Bible verses which talk about death. Well, it focuses on death of the righteous man and what the death could signify. Although, many people may misunderstand the fact that the death of a righteous may not actually mean a great loss, Leke's message pointed out some things about such death. According to Leke's message, the death of a righteous man is not taken to heart because such righteous man is taken away so that he could be spared from evil.
In view of the above, those who understand the deep meaning of Leke's message may see reasons with him not to cry their eyes out or worry too much over Dare's death. As human beings, it could be very painful to lose a loved one. The family will be pained and the family members as well as friends may grieve over that loss. But, when it is the death of a righteous man, such grieving should be brief and moderate. Dare's death is a mystery that may still need to be unraveled. Yet, Leke's message is a step into revealing more about the manner Dare passed away. It could be a call to Glory as Leke's message suggested. R.I.P Dare.
Let's  have your thoughts on this via the comment section.